The NBA Draft Lottery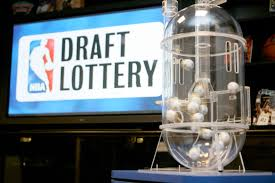 The NBA draft lottery was on Tuesday,  May 14th and it was one to remember. Dukes, Zion Williamson, RJ Barrett, and Murray States Ja Morant are on the line.  The lottery is an event held by the NBA in which the teams that missed the playoffs participate in a lottery type process to determine what pick they get for the future draft. They have a ping pong ball with there team name on it and they spin it and they draw from the bin of ping pong balls.
This lottery was a huge surprise this year with the New Orleans Pelicans winning the first pick. They will most likely select Dukes power Forward Zion Williamson who is arguably one of the best athletes in the world. The Memphis Grizzlies got the second pick and it is projected that they will pick Ja Morant shooting guard from Murray State. Then the New York Knicks got the 3rd pick and it is projected that they will pick RJ Barrett Shooting guard from Duke. This is one of the most anticipated drafts of all time because of all the great players. It also is a huge draft because Zion is one of the most popular explosive players.