The Maze Runner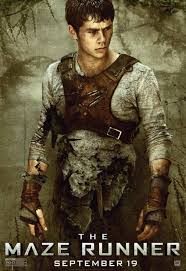 Imagine waking up and not knowing anything. You only remember your own name. And suddenly, you're on an elevator, going somewhere. The panic that goes through is almost unbearable. You can smell your own fear, especially as the fact that you can't see anything. Suddenly, the elevator stops and a door opens. And then you're in The Glade.
This kind of thing can be extremely scary. It's also a great way to pull someone into a story like this. It's almost as if James Dashner, the author, threw a reader/watcher into the story. Usually when you start reading the book or watching the movie, you know nothing and the protagonist has to fill in the gaps, but in this novel the character knows basically less than you do.
This kind of a beginning belongs to the novel, the Maze Runner, a novel by James Dashner recently made into a movie. From start to finish the movie is action packed from the moment, protagonist, Thomas (Dylan O'brien), awakens without knowledge of his previous life. The main setting of the story takes place in a field called, The Glade. Later, it is revealed that outside of the Glade is a place called the Maze. The boys that live in the Glade have rules to never go inside, but we also learn that the Maze is also the only way out.
Thomas has an ever growing curiosity to go into this mysterious Maze. The Maze consists of creatures that can't even be described called, Grievers, due to the amount of evil they emit just by their presence.
All Thomas thinks about is entering into the Maze, like he belongs there. But then things change when only a couple days later, a girl arrives in the Glade, which is completely abnormal. She is the first girl to ever arrive, and people only arrive once a month. Plus, she knows who Thomas is.
In retrospect, the movie is almost better than the novel. It's a very interesting concept to say something like that, and, although it's very rare, it can happen. I'm not saying the novel is bad in any way. It was actually a very fascinating book, but the movie can leave the reader wanting more. When I read the book, I wasn't quite as enthusiastic to read the second book as I was for the sequel to the movie.
Rotten Tomatoes gave the Maze Runner 3 out 5 stars, IMDb gave it 7.3 out 10 and Metacritic gave it a 3 out of 5 as well. So, it's safe to say that not all but most people enjoyed the movie. It isn't just another Dystopian but in a sense it's very similar. Ff you aren't much of a reader, then the movie is a must see.