IHOP celebrates National Pancake Day with free pancakes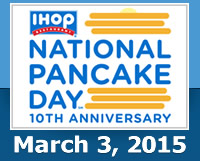 The smell of sweet syrup, melted butter, and of course pancakes wafts through IHOP restaurants on a typical day. Pancakes are rushed out of the kitchen and onto plates of customers anxiously awaiting their meal. Like most restaurants, people of all ages come and go throughout the day.
On March 3rd, however, this scene will be a little different. IHOP is celebrating National Pancake day for the 10th year, and has decided to give each of their guests that day a free stack of Buttermilk pancakes. In return for the free pancakes, IHOP is asking for donations from its visitors that will go to Children's Miracle Network Hospitals.
Of the 170 hospitals that are apart of the Children's Miracle Network Hospitals, only one is located in Utah, Primary Children's Hospital.  The money raised by IHOP will go towards charitable care, medical equipment, and other healthcare services for children receiving care from these children's hospitals. Cancer, diseases, and premature birth are only some of the many health issues that children throughout the country face. The money raised for the Children's Miracle Network Hospitals goes to battle these and other health problems of children.