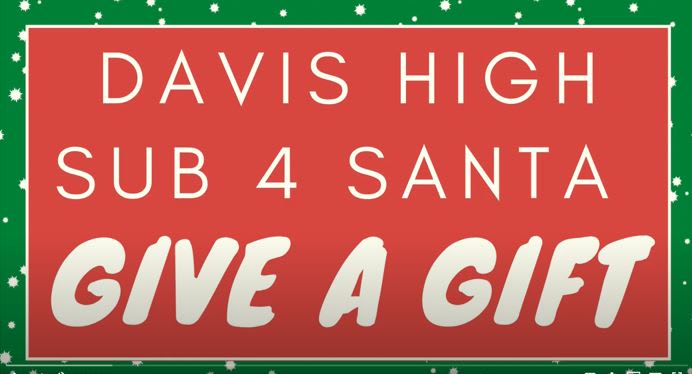 Sub 4 Santa 2021
December 14, 2021
There's no missing the posters and holiday decorations around the school, put up as advertising for Sub 4 Santa.
To students unfamiliar with the program, student body president Eliza Thaxton explains, "Sub 4 Santa is an opportunity for us to give back to our community and we help raise money to … fund a homeless center at mountain high so kids can come do their laundry, take a nap, get help with homework, shower, all that good stuff."
To raise these funds, the student government has planned 16 activities, with at least one activity every day.
Last year, Davis High raised over $25,000, and this year, junior class president Bryndee Maxfield reports that "Our goal is 25,000, but we're hoping for 30,000".
Of all the activities, many students are looking forward to Save it or Shave it. Save it or Shave it is an annual activity for Sub 4 Santa where individual students raise funds in their name, and whoever gets the most funds gets to keep their hair.
One participant, Allie Snapp says that she's "definitely nervous" about the possibility of getting her hair cut. She says if she ends up needing to make the chop, she'd be losing "about 8 inches".
Some other activities to look forward to, according to sophomore class president Megan Chamberlain are "game night and a softball tournament."
Senior class president Carly Lambert most looks forward to "Beating Farmington with Dartman by shaving their hair."
Davis's student government implores the student body to donate. "I think its's just  a really great opportunity to really get people to come out and just serve and it brings unity." Says Lambert, adding, "There are so many different ways to donate."
"Everyone should donate, it's for a good cause…Let's show our Davis High pride and donate," says Thaxton, "Let's show our Davis High pride and donate."