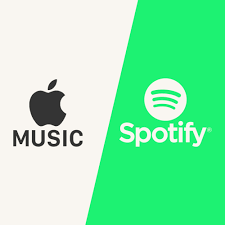 The Superior Music Streaming Platform: Apple Music or Spotify?
January 5, 2022
Apple Music and Spotify are by far the two largest streaming platforms in the world, with Amazon Music trailing in third by a considerable margin. Market share analytics show that Spotify is responsible for 30% of the revenue earned by streaming platforms in the first quarter of 2020, with Apple music at 25%. Mark Saltzman defines in, "13 Popular Music Streaming Services Give Listeners Loads of Choices" 
An important feature of streaming platform to users is to have the song they are looking for, when they are looking for it. If the streaming service doesn't have the artist or genre of music they are looking for, they are likely to find the songs somewhere else and listen to it there.  "Spotify says it has a catalog of over 70 million songs while Apple Music is over 75 million." says MacRumors.com. A 5 million song difference isn't a huge deal in the grand scheme of things, but to buyers that could be the swaying factor considering the applications are very similar. 
In an interview where asked whether they prefer to use Spotify or Apple Music, Students at Davis High School, Tanner Hixson and Matt Allen, had this to say:  
"Apple Music because it seamlessly connects with my watch, computer, car, and HomePod" Tanner says. In this situation, there is a clear bias, taking into account the number of devices he has that are conveniently compatible with his Apple Music subscription.  
"Spotify reigns superior due to a plethora of nonparallel attributes. For one, Its personalized recommendations found through the individually crafted playlists yields a better experience for one who yearns for a larger quantity of similar tracks." Matt Allen shares his opinion.  
This strikes a valid point in the argument. There is no clear "best option" among all the music streaming platforms, because they are all convenient to different people in certain ways. Someone might prefer an Amazon Music subscription because they have Amazon Alexas set up throughout their house so it would just be silly to pay for a non-Amazon music platform.  
In conclusion, the debate on what is the superior streaming platform will never reach a clear answer, because the topic is completely subjective.