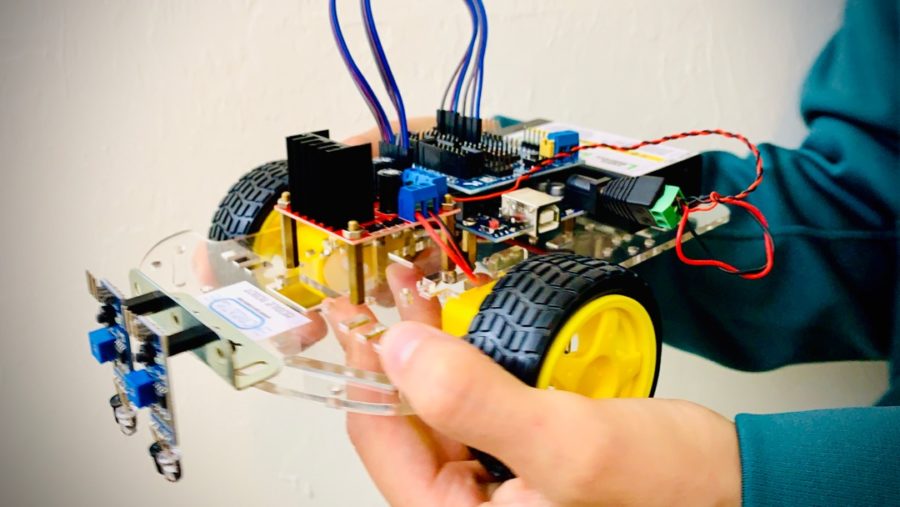 Davis high's robotics team; A hidden gem
January 11, 2022
Davis High has a prized tradition of excellence, and one club takes that tradition makes it their own- Robotics.
Davis High's Robotics club has an impressive track record- 9 time state champions, 2 time world champions and have been among the top 5 teams in the world for the past 10 years.
The competitions that have brought them this prestige are, according to 11 year robotics teacher Mr. Leifson, "…very similar to what I would compare to a regular season for a basketball team. We will have somewhere between 6 to 8 matches, per team, and this year we have 7 teams."
In an average day in the club, students spend their time making robots as well as "…spend[ing] the day programming and learning how to program and learning how to control the robots. So everything we do in class is focused on automation and control," says Liefson.
"A normal day is building robots and tuning whatever we have, and programming and doing autons… and scrimmaging," adds club president Brittany Evans.
The robotics club is programming completely automatic robots, and some have pretty unique skills.
"I made a rubber-band shooting robot," says Liefson, "I drove it into the main office and started attacking the office staff."
On top of just having some fun, the robotics team is winning consistently with impressive gender diversity.
"We have a lot of female participation, and I think that sets us up for a massive amount of success because women are such a powerful force and other people aren't tapping into it the way we have been able to figure out to," states Liefson.
Student flock to football games, but very few within the student body are aware of the amazing successes of the robotics club.
"I don't know why people don't know who we are, or that we exist," Liefson says, "We have one of the top robotics clubs and one of the top engineering programs in the state of Utah and somehow kids don't know about it."
"It might be because we're a club and it's after school and it's not with sports," suggests Evans.
Liefson sums up the clubs' legacy best- "We definitely hold up a lot of the tradition that Davis has of achieving excellence. We win, and we win a lot."