Woodshop Class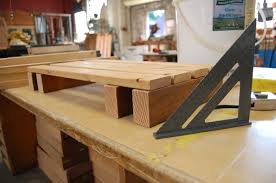 Woodshop could be a place for you to get away and release your stress or it could be a place where you can make a project to take home and keep in your house or maybe even sell the projects you make and make a friend with the teacher.
Woodshop teaches a lot, it teaches you how to read a tape measure, all the way to how to use all the machines in the workshop, and it makes you a more skilled person and is very impressive to be able to know the information you learn in the Davis high school woodshop class.
The woodshop teacher's name is Bryan Sorensen but everyone just calls him "Sor". He is what you would call "The most experienced with wood" Sor has been woodworking his whole life and knows it all. He takes care of his class and helps you if you need help with your project, Sor is one of those teachers that you can joke around with and he won't be mad unless you go over the limit. One thing he does care a lot about is if you clean up your scrapes after you use a machine.
In woodshop 1 you have to pass a test to be able to go into the shop and you learn how to make a cool Alder chest, in woodshop 2 you make a really cool nightstand, and in woodshop 3 you get to pick what you want to make you could make a skateboard to making a tennis racket or even a kitchen table for your kitchen.
woodshop could be your new favorite class and you would not want to miss out on it you learn so much with the hands-on experience and you get to meet one of the coolest teachers at Davis high school, and if you would like to get into woodshop class you should switch into it, it even counts as an elective credit.