Glass cases promote Centennial celebration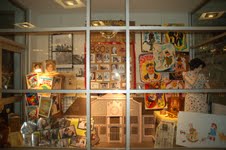 Each year there are several glass cases set around the school representing activities that happen during the school year. With it being the centennial year at Davis High School, there is a case next to the 1300 hall displaying items from different decades that the school went through during its 100 years.
"The plan is, each month, to change the display to match each decade." Pamala Coburn said. "The plan is to not just focus on success academically, but what was going on in the world. Fashion,  transportation, technology, the shape of the building."
The window is currently displaying the time period of 1914-1924, those first 10 years of the high school. There is a picture of the original building, along with what the students wore, ads that were in newspapers, and what kind of technology they used in this that period.
Along with the cases each month there will be activities in the commons to fit the decades.
"We had a ping pong tournament, a candy table representing candy from 1920′, Albert Einstein – Inventor, Music from the 20's, old cars that were outside (green, yellow and blue – awesome) fashions from the 20's and toys and games." Carolyn Pierson said. "Each month will have a day like this so students can see what it was like."
After homecoming, the case will change to represent the 30's, and there will be a day that has the cars that were used in that time period coming to the parking lot so students can see exactly what  transportation in that time was like.