Turley Sisters, a family of tennis prodigies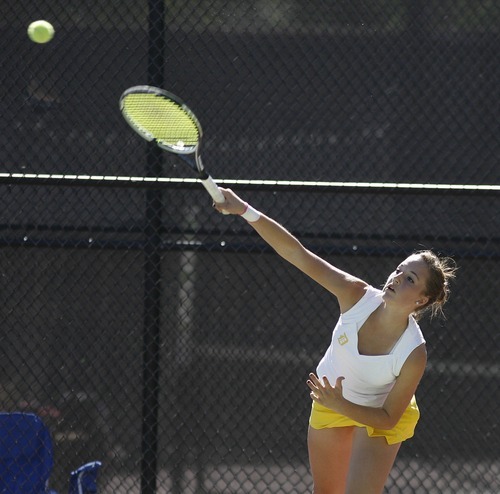 Tennis is a family sport. Three generations worth of blood, sweat, tears, and hard work are linked to the Turley name. "It's come down from my grandparents, to my mother, to me. It's in my family, it was my destiny to play tennis. My life revolves around the sport, it's the most important thing in my life," said Breezy Turley, junior tennis player.
Breezy Turley is a junior at Davis High whose life revolves around tennis. Her sister, Whitney, also plays, and is a freshman at Centennial Junior High. They spend three to four hours of their day devoting time to training at the Ogden Athletic Club with the best coaches money can buy. She runs drills while increasing strategy and knowledge of the game. "I don't get home until about 4:30 and then I have dinner, homework, and bed, because I need to get enough sleep. it's very important."
Her hard work and hours of practice have paid off, as she led the Davis Tennis team to take state this year. Her high school coach, Andy Walstrom said, "Breezy has emerged as a great leader that, obviously, all the girls look up to because she is clearly the best. In high school tennis, as a team sport, it's all about depth. Having [Breezy and Whitney] on our team gives us points, but they also give us depth. We wouldn't have won state without them. We aren't state champs without them."
Breezy's hard work has already begun to pay off toward completing her long term goals, regarding tennis. She has verbally agreed to play tennis for the University of Utah. However, instead of competing in her adult life, Breezy has decided it is more important to have a family, not only tour in tennis. Whitney Turley, on the other hand has decided to strive to be a Division 1 player, then hopefully go pro.
Breezy and Whitney share similar short-term high school goals. Whitney works toward winning a national title individually, while Breezy plans on being a four time state champion, becoming better mentally and physically for her senior year, and to have a banner hanging in the Davis gym. Some girls stop playing high school tennis just to focus on their national ranking. Her future college coach is telling her where he wants her to be by her senior year, ranking wise. "Most girls drop high school tennis, but she insists on playing in high school, that's where she finds all the fun. You have comradery, you're playing with a team. Breezy likes the team aspect of it, a lot." said Walstrom.
The Turley's have made an impact on their team throughout their years playing with the Davis girls. Emily Watkins, senior, and fellow fellow teammate said, "They're both really good leaders, they're talented, and spend time influencing others and helping us in what we need to do. All the hard work, time, and effort that they've put into tennis their whole lives far exceeds anyone I've ever met."
Tennis is number one in these girls lives. Tennis has made them "more grateful" and "more responsible." "I am always on top of things. I am a more determined person because of tennis." said, Breezy.