Fans rush to theaters to view Dystopian thriller Divergent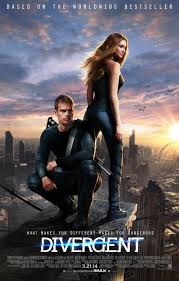 On March 21, a new Dystopian themed story spread a new fad across the country. Readers and movie watchers from all over scrambled to the movie theaters to see one movie: Divergent. Although this movie is Dystopian, like the Hunger Games, it is nothing similar. The movie is based on a book written by Veronica Roth in 2011. It is based inside a fence, with five main jobs that everyone fits in. Abnegation, where the selfless live without selfish desires. Erudite, where people who enjoy learning knowledge go. Amity, where those who are kind fit in. Dauntless, where the brave have a place. Candor, where honesty is of most importance. In this society, everyone fits in one place only and if they leave their place, also called faction, they become 'factionless' where they are forced to live homeless and starving. During the novel, Tris Prior, the main character played by Shailene Woodley finds out that she doesn't fit in just one of the factions, but three. This is the reason to the name of this movie and book, Divergent.
This is also what happens in the movie, where she meets 'the man of her dreams', Four, played by Theo James. Four is well known among his faction, Dauntless, in which Tris tries to hide her fate as a Divergent  in. To movie watchers across the world, the movie was something different and exciting. To readers, it was a near replica of the book with a few minor issues.
The book is the first of a trilogy, meaning that in 2015 there will be a second movie called Insurgent and then in 2016, Allegiant will be released, where fans will be overtaking the movie theaters. Divergent made fifty six million dollars opening weekend and received a seven point six star rating out of ten on the website, Imdb, the International Movie Database, which means fans will be screaming when they are able to finally see the scenes in 3D.