25 Movies to Look Forward to this Fall
Hang on for a minute...we're trying to find some more stories you might like.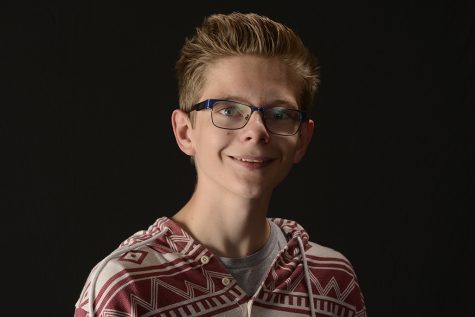 More stories from Aiden Morton
Coming back to school can be hard. Sometimes, you just need some time to sit back, relax, grab some popcorn, and watch a movie. Whether you like wizards, princesses, creepy monsters, or music legends, the theater has something for everyone! Maybe you'll even find a great date night movie!  
The Nun- September 7 
The Nun is the origin story of the scariest part of 2016's Conjuring 2. Set in a Romanian castle in the 1950's, a young woman who is on the fence of becoming a nun and a mysterious priest are sent to investigate a paranormal force known by "Valak the demon Nun." The marketing campaign promises the darkest chapter in the Conjuring universe yet.  
The Predator- September 14 
The stylized director Shane Black is reviving the Predator franchise with the help of an all-star cast: Keegan-Michael Key (Kee and Peele), Jacob Tremblay (Room), Sterling K. Brown (This Is Us), and Boyd Holbrook (Logan). The trailer promises a bloody, funny, and intense good time. 
A Simple Favor- September 14 
Anna Kendrick (Pitch Perfect) stars as a mom who is investigating her best friend's (played by Blake Lively) sudden disappearance. Because it is directed by Paul Feig, who is usually a comedy director, it will be interesting to see how this shakes out. 
White Boy Rick- September 14 
White Boy Rick is the true story of a 15 year old who became a world class hustler, drug dealer, FBI informant, and overall legend. The trailers are excellent, so I wouldn't be surprised if this turns out to be one of the best movies of the year. 
Unbroken: Path to Redemption- September 14 
This inspiring tale of a WW2 soldier/Olympian looks bland and dull. It is lacking the great Domhnall Gleeson performance that the first has and doesn't feature as interesting of a true story either. Wait for streaming for this one. 
The House With a Clock in its Walls- September 21 
Jack Black has left the Goosebumps franchise in favor of another family-friendly horror-adventure film. This one looks superior in every way to the new Goosebumps movie that comes out in late October. I love the spooky atmosphere, and the book is beloved for a reason. Look out for this one. 
Night School- September 28 
After 2017's Girls Trip, Tiffany Haddish has flourished into a comedy powerhouse. Everywhere you look, Tiffany Haddish is there. Now she is teaming up with Kevin Hart in a comedy about adults getting their GED. The trailers look like a lot of fun, and the cast is definitely exciting. 
Smallfoot- September 28 
Warner Bros Animation Group (or WAG) has a pretty good batting average. They've made the LEGO movies and 2016's Storks. I've liked all of their movies. The worst one is the LEGO Ninjago Movie, but that had its moments. The trailers for this movie haven't impressed me, but if this story of a yeti discovering mankind has the same quality as WAG's other films, we could be in for a treat. 
Hell Fest- September 28 
And the award for the most generic horror movie name goes to… Hell Fest! Hell Fest is about a group of teens that go through a Haunted House and are as happy as can be, until a masked character in the haunted house takes his job too seriously. The trailer looks original and has some good scares. This movie will definitely make your trip to Black Island Farms more frightening. 
A Star is Born- October 5 
Lady Gaga wants to establish herself as an award-caliber actress, and this is her first step. Co-starring (and directed by) Bradley Cooper, this Best Picture frontrunner is about two musicians in love and the toll that fame can take on a relationship. The early reviews say that this one is not to be missed. 
Bad Times at the El Royale- October 5 
This is one of my most anticipated movies of the year. It's a suspense thriller about a hotel on the border of both California and Nevada that is hiding some dark secrets. With a 70's time period and an amazing cast, (Jeff Bridges, Jon Hamm, Chris Hemsworth, and more) this is one mystery you will want to unravel.  
First Man- October 12 
From the director of La La Land and Spotlight comes the story of Neil Armstrong and the intense story of the moon landing. I love the director, but the idea of a movie where you know the ending (Is he going to make it to the moon? I don't know!) doesn't excite me. The amazing visuals and performances might make up for the predictable plot. 
Goosebumps 2- October 12 
The first Goosebumps was a pleasant surprise. It had just enough scares and a hilarious performance from Jack Black to make it an enjoyable time at the movies. The sequel has lost Jack Black and looks to have lost all of the original's charm and originality. The visuals look awful, the star power is week, and it boasts one of the worst logos I have ever seen in a wide release film. 
Halloween- October 19 
The original Halloween was good bloody slasher fun. The sequels dragged the series down with convoluted explanations, awful acting, and atrocious scares. The 2018 sequel looks to forget about the sequels and be a direct sequel to the original. This is a great choice, because it gives the film the mystery the first one had. The trailers look scary and interesting and the music is worth the price of admission. 
The Hate U Give- October 19 
The Hate U Give is a teen drama about police brutality and its effect on the youth of this nation. Starr's happy life is corrupted when a police officer unfairly guns down her boyfriend without any consequences. The movie follows her campaign to make things right. It looks like an effective film that is worth watching. 
Johnny English Strikes Again- October 26 
The new Johnny English makes the goofy spy franchise a trilogy. The first two are funny, but forgettable, movies that never come close to the heights of Mr. Bean, Rowan Atkinson's other franchise. This one looks to follow that trend. 
Bohemian Rhapsody- November 2 
The biopic of the legend that is Freddy Mercury has had quite a bit of trouble behind the scenes, but if the amazing trailers are anything to go by, this film will be an event that will capture the glory of one of the most influential rock stars of all time.  
The Nutcracker and the Four Realms- November 2 
Boring! Dull! Eyesore! Missed opportunity! Embarrassment! These are all words that will most likely be associated with Disney's interpretation of the Nutcracker. Avoid until further notice. 
Boy Erased- November 2 
This movie will be great, if hard to watch. It's about the horrors of Gay Conversion camps. It is sure to bag a couple of awards come winter. 
The Grinch- November 9 
I hate 2011's The Lorax with a burning passion. I could rant about that movie for hours. The same studio (Illumination) is making another Dr. Suess book into a CGI movie, and it looks painfully unfunny. I might not be the target audience, but I could not be less excited for this movie. 
The Girl in the Spiders Web- November 9 
They've attempted this franchise a number of times, and it never has clicked with audiences. I'm not sure if this one will be a success or not, but the trailers have clicked with me. If you want a beautiful looking action movie, this is where to look. 
The Crimes of Grindelwald- November 16 
The original Fantastic Beasts film did a good job of setting up the world of magical New York and setting up the remaining 4 films. On November 16, we'll see if they deliver. Jude Law is great casting as Dumbledore, and the trailers make the film look pretty good.  
Wreck It Ralph 2: Ralph Breaks the Internet- November 21 
Wreck It Ralph and Venellope have left the arcade and stepped into the world wide web in this sequel to the beloved 2012 film. I am disappointed that we won't see as many arcade characters, but the Disney Princesses together at last more than makes up for it.  
Creed 2- November 21 
The first Creed film is the best sports movie ever. Don't @ me. Hot off of his amazing performance as Killmonger in Black Panther, Michael B Jordan returns to the ring to avenge his father and defeat Drago's son. 
Robin Hood- November 21 
Meh. It doesn't look awful. It also doesn't look good. I do love Jamie Foxx, but other than that, this movie looks painfully mediocre. 
And that's the fall season in the cineplex. What movies are you most excited to see? Are there any you would rather die than see? Share in the comments below.