Stage Crew-The value they have behind the scenes.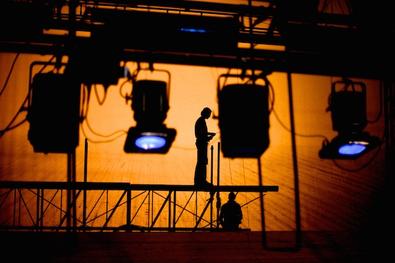 Have you ever been to a musical and noticed all the amazing props and back drops? Or noticed how each scene changes so fast one to another? This is all because of the stage crew. If it wasn't for them, a musical wouldn't be existent.
So if they're so important to the musical world, then lets look further into what stage crew is all about it.
Stage crew helps prepare for the upcoming musicals and productions. They assemble all the props, decorations, back drops together.
"Stage crew is fun, however there is a lot of long nights, it can be stressful and I can definitely feel the pressure at times." Said stage crew member Braelynn Anthony.
"The team can have some pressure in order to get all the props and materials sent in and made on time. But it's all part of the experience. It still is really fun and a blast to be a part of if this is up your alley." Stage crew is super fun if you're into decorating and creating the whole stage scene.
The stage crew club we have at Davis High is really good! They help our drama productions a lot. "The crew can be quite snappy at times," Braelynn stated. "But that's all because it can be a very stressful environment." But Braelynn Anthony also said how she really likes the crew, they're super friendly and she's had a fun time with the team.
Stage crew plays a huge part to the drama department. Without them, we couldn't have productions. So a huge thank-you to our stage crew. Stage crew is a fun experience. It can be stressful and challenging at times. But it's still very enjoyable.
It's very exciting as we look forward to Davis High's upcoming production "Newsies" in November. The stage crew and drama department have worked very hard for this musical. It is showing November 10th. So make sure you support the drama and stage crew and go see it!!