Davis Indoor Track Club: Team unites to overcome adversity at Simplot Games
More stories from Tate Gardner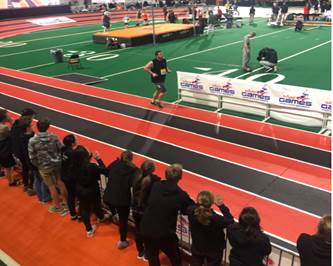 The Simplot games were held in Pocatello, Idaho and once again the Davis Indoor Track Club accepted the challenge. Athletes from all over the world attend the meet to run and compete in indoor track and field events. However, this year was different for Davis High School Indoor Track Club. Having to overcome an emotional trial this weekend. The athletes of Davis High came together and finished their races.
"When I first got up there I felt a lot of emotion when I looked at our students, they had been through a lot. Our athletes were able to dig down and stay focused throughout the trial they were facing. It was awesome to see our athletes come together and finish their races." Stated Brad Chapple, one of Davis High's Vice Principals.
Naturally, with any adversity in sports it causes teams to change and grow.
"At first, we were thinking..well what do we do? Do we just pack up and go home? It was very emotional. A lot of the other teams up there were there for support. Most people chose to stay and race. It was good to have us stay together as a team, and we were able to lean on each other and support one another. " Explained Coach Paul Timothy.
"We learned that we can do tough things. We grew closer, but at the same time it was an eye opener for all of us." Said Alicia Halverson, an athlete on the Indoor Track Club.
One of the most emotional moments of the meet was when Head Coach Markham Hyde finished the "The Coaches Mile". On Friday night at a meeting Coach Hyde told his team that he too would finish the race (He had previously signed up for the coaches mile run).  On Saturday at 11:00am Markham and about 12 other coaches started the mile.  Davis student-athletes lined the track to cheer for their coach.
"Markham finished the last lap as the lone runner, but I would argue that he wasn't alone.  As Coach Hyde rounded the last turn, he was met with cheers from his students and coaches. Then I looked around the arena, it seemed like everyone was rooting for coach." According to Vice Principal Brad Chapple.
Chapple added: "The track coaching staff did an excellent job of being there for the students. You never expect a tragedy like this to happen, but when it did, we had the right people in the right place"
Despite this tragedy, the track team still placed. Trey Ferrin took 9th in the Boys 3200, Ellie Lundgreen placed 3rd in the Girls 3200, and Kale Thomas placed 4th in the Boys high jump. Davis also placed 1st in the Boys 4×800 relay, 2nd in the Girls 4×800 relay, and 3rd in the Girls medley relay.
At the end of the day, the Indoor Track Club turned to one another not only for support, but for a bonding experience that only comes through extreme adversity.