Senior Cotillion
More stories from Tate Gardner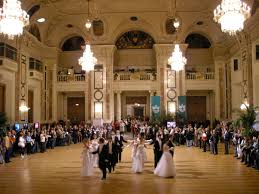 With the end of the school year coming to a close, the last couple weeks are going to be awesome, especially for the seniors. With a lot of fun activities and opportunities senior week is upon us. Every day there is a different activity for the seniors to participate in, all leading up to Friday. Friday is Senior Cotillion.
Senior Cotillion is a non-date dance for all the seniors who attend Davis High. It is suppose to be an awesome time. With it being senior week, there is a lot of talk from everyone about Senior Cotillion.
Zoe Jacobs says,
"I think that I'm going. I think that it's great, and I'm looking forward to this last chance to socialize and attend a dance for Davis High."
When asked about the expectations for Senior Cotillion Marcus Maughan said, "I think it will be a good time and hopefully there is good music."
Lot's of seniors have different opinions about the dance and are looking forward to have such a fun opportunity.
Margaret Brown says,
"I am super excited! I am so excited that all of my friends are going to Senior Cotillion as well."
This years senior class has been an awesome one for sure. With the senior's high school career coming to a close, they are excited to have one last opportunity to dance and have fun at Senior Cotillion.