DHS Spring Play: You Can't Take it With You
More stories from Emma Beardall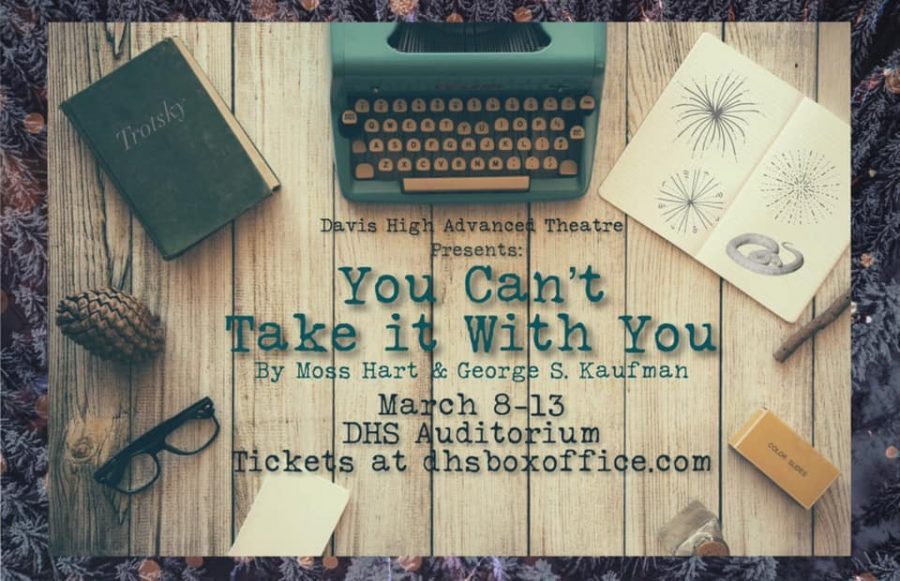 Davis High School is known for its incredible athletics & having the highest graduation rate in the state of Utah. With so much success in these areas, it's no surprise that DHS theatre productions often blow audiences away. From Night O' Shakespeare selling out all 5 performances to Newsies being nominated for several Utah High School Theatre Awards, we can expect the same success from the 2019 spring production, You Can't Take It With You.
You Can't Take it With You tells the story of the kooky-but-lovable Sycamore family, all taking place inside the Sycamore home. A playwright named Penny married to firework manufacturer Paul host several interesting characters in their home. A Russian dancer, eccentric grandpa, & oddball xylophone players are only some of the people you'll meet when you come see You Can't Take It With You. 
Penny & Paul's youngest daughter, Alice, is ready to introduce her gentlemen caller & his parents to the crazy Sycamore family. The chaos that soon after ensues as the two families get to know each other is humorous, wholesome, & heartwarming as they tell the story of two families become one.
The Advanced Theatre class & stage crew have been working & rehearsing for months on this awesome show! The show opens March 8th & runs through the 13th, 7 o' clock in the DHS auditorium Tickets are only $5 so bring your family, bring a date & enjoy the wonderful craziness of the Sycamore family in You Can't Take it With You. To buy tickets go to dhsboxoffice.com
Grandpa-Kaden Mackay
Penny-Annie Zaugg, Erica Johnson
Paul-Lucas Meyer
Alice-Anna Peacock, Alison Bouck
Essie-Emily Porter, Kylee Hoffman
Ed-Tyler McQuiston
Mr. De Pinna-Logan Jeppson
Rheba-Chloe Johnson, Annie Woodbury
Donald-Jaxon Brown
Kolenkhov-Sam McConkie
Olga-Kendra Pugmire
Tax Collector-Jennalee Calvin
Gay Wellingotn-Tessa Washburn, Savannah Bentley
G-Man-Adam Coles
Mr. Kirby-Dekklan MacKay
Mrs. Kirby-Ruth Evans, Payton Valleley
Tony-Erin McGrath