Latinos In Action
More stories from McKinna Baird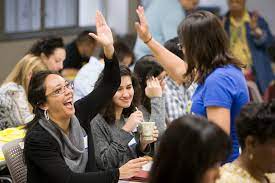 Davis High is home to many clubs and organizations.
One of those clubs is Latinos in Action (advised by English teacher Ms. Turner), described by member of 3 years, senior Eileen Magana as "…an extracurricular club in which we minority students join to do service and overall kind of feel part of a group."
One of the focuses of LIA is service. When asked about the kind of service projects the club participates in, senior and member of 5 years Angel Gallegos mentions tutoring and helping with festivals and fundraisers at elementary schools.
"The one I remember most was at Creekside elementary, and there was this festival they did and it was very fun to interact with the little kids," says Gallegos, recalling his favorite service project.
"I think my favorite project is tutoring, I just love being able to go to the elementary school to tutor kids, just because you do get to build relationships and connections with those kids," says Magana.
Members of the club value what they learn from the organization.
"It's important to me because I get to learn from different perspectives from different people and different cultures," says Gallegos when questioned why LIA is important to him.
In response to the same inquiry, Magana states, "It's important to me because it forces us to branch out into things we're not really used to whether that is group presenting or being a part of a bigger group and that leadership aspect to it as well to be able to lead in your own committee."
With such important experiences for members, it's no wonder that Magana speaks highly of LIA at Davis, when asked if she thinks it's impact is positive.
"I do because we're all forced to be part of an extracurricular outside of (LIA) so personally I do debate and I do mock trial as well, and so I'm able to branch out into things that I probably wouldn't branch out to if that wasn't the requirement."
Latinos in Action brings participation to other curriculars at Davis, leading to more student involvement overall.
Overall, Magana's final quote sums it all up perfectly:
"Please join. I think that the program is kind of not as sponsored as it should and it's not just minority students, we have other students that don't speak Spanish or just want to be a part of it and I think the overall experience is just really nice."
In order to join, take a look at next year's schedule- this organization is a class to be enrolled in.
About the Contributor
McKinna Baird
The inner machinations of my mind are an enigma. -Patrick Star