Davis girls golf ready for the season
More stories from Bridgette Volk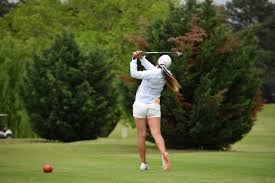 Last year the Davis High girls golf team finished with a two day score of 648, just one stroke ahead of Corner Canyon and Lone Peak, who went to a sudden death playoff for the rights to second place, which Corner Canyon won. The reigning state champs are getting ready for their new season to start soon. Will they be ready and do they have what it takes to win it all again?
Cheyenne Hansen, one of their best players is ready for the season to start. "I'm super excited for the season to start, especially coming out of a really good season last year. Being able to play senior season with the girls I've played with since freshman year." Hansen said. As for Cheyenne and many other girls on the team, they have a lot more pressure on them this year, for being a threat to many other high schools such as Lone Peak and Corner Canyon. They need to be ready.
"Our biggest competition for region this year will be Fremont, but I think we'll still do really well." Hansen said. Last season, through out all of their region tournaments, Davis won every single one of them. With Fremont and Weber on they're tail every step of the way, they never gave up their first place title, not once.
Golf is one of the hardest, most skillful sport you could ever play. It is a game of the mind, it is fun, recreation, and a stress buster when you enjoy each shot. Harry Vardon, one of the most amazing golfers in history once said "There are only two types of players-those who keep their nerves under control and win championships, and those who do not."
These girls have what it takes to win it again. They need to stay focused and learn from one another. If they can push them selves to do great, they can win another state title for Davis High School.
About the Writer
Bridgette Volk

My names Bridgette Volk, i play golf/eagled the 9th, and i believe this world can be sensational one day!