End of Term Finals
More stories from Megan Muirbrook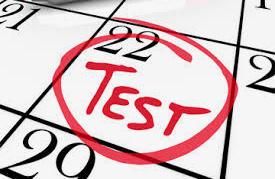 With the end of term near, stress levels are up and end of term finals are to blame.  But there are things we can do to relieve that test stress.
Mindset. Make sure you aren't freaking yourself out, tell yourself you are fine. You've learned all you need to in this class for the past term, this is only a test of that. You got this!
Get a good nights sleep. Don't overdo it with the studying and not get sleep over it, that will only hurt you. For a teenager, you should be sleeping 8-10 hours a night. A rested mind helps more than staying up all night studying.
Eat a nutritious breakfast. It is important to fuel your body for ongoing energy throughout the day. Some healthy choices could include, eggs, yogurt, cottage cheese, or oatmeal.
Read the directions. Don't rush yourself, make sure you read the directions carefully and thoroughly. This could be the difference between a correct and incorrect answer.
It's not a race. Yes, it's important you don't run out of time and you do need to pace yourself. But, don't rush yourself too fast, just because your neighbor is going faster doesn't mean you need to go at that same pace.
Breathe. Feeling nervous is natural, but make sure you are taking big deep breathes. This will insure you are thinking more clearly. Try breathing in for three counts and out for three counts until you feel more calm.
Each of these tips can create an extra boost of energy and/or enthusiasm in taking your finals. Just remember that stress is a complete mental thing, with the right techniques you can easily ace that final.