Hannah Loveland upcoming star
More stories from Jacob Halverson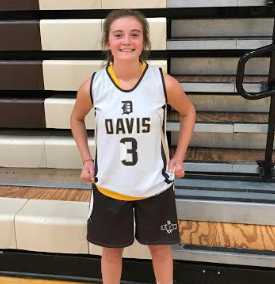 Hannah Loveland, a student here at Davis High school. Hannah is a Junior here at Davis, and loves it. She also plays on the girls basketball team. She has been playing basketball since 5th grade.
Hannah has been playing on the team, since her freshman year. Which is amazing playing against girls that are not only older, but bigger. She started playing here with girls that now play over at Farmington High due to the split.
Hannah said that even though they have a young team,
"We've been playing together for a while, and have good chemistry."
And they believe that they will be able to make it to State this year. And they have about eight girls returning still with the split, and are more ready than ever to get out onto the court and leave everything out there.
Other than basketball, Hannah said that,
"Love spending time with the team, friends, and Family."
But she also stated that she loves practicing, and getting better, learning new skills every day.
Since these girls hangout together outside of basketball, they are closer together than most teams. They are friends on and off the court. And often find themselves doing team bonding exercises, and going to lunch and dinner together.