Tim Larsen: The teacher you didn't know you needed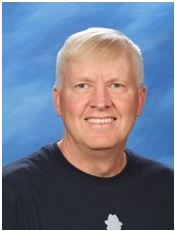 English typically isn't thought of as a favorite class, but when it comes to Tim Larsen's English class students have only good feelings walking into his classroom. Mr. Larsen has been said to be "one of the most understanding teachers I've had," by students.
Mr. Larsen goes with a much more comfortable teaching style. As a teacher, he said, "The most effective way to teach the students is to come from a place of respect." The students at Davis High say nothing but positive things about Mr. Larsen. One student said, "He's a really good teacher, I like that instead of having the students do a lot of busy work he does class discussions and lets everyone who wants share their opinion."
His class is known for having assignments that are worth the students time. He fills his class time with discussions and applicable work. Mr. Larsen said, "I will never give busy mind numbing work sheets." He works hard to give good content to the students that they will find relevant and useful.
Before anything else, Mr. Larsen wants his students to feel comfortable and respected. "Self respect is the path to useful truth," is his philosophy. He puts the students above assignments and believes that focusing on the students first is the best way for them to learn. Mr. Larsen said, "I want to reinforce the idea that the students are already strong and successful." He puts a much more positive spin on the classroom and wants the students to be happy and safe walking into his classroom.
"I just want this to be a good class," said Mr. Larsen, when he asked what his goal as a teacher was. Mr. Larsen is a very caring teacher that has the students best interest at heart and will always go to great lengths to make them walk into class with a smile.
Mr. Larsen has been teaching for twenty years and has learned a lot about the students and effective ways to teach his students. He said one thing that he learned was, "You cant take the wrong things too seriously." Mr. Larsen also talked about how he is best when he has empathy for the students. He said, "students have a lot on their minds" and "being human is a complicated and exhilarating experience."
He shows that being there for the students and helping them through their life is beneficial not only to the students, but to the environment in the classroom. Mr. Larsen has a great respect for education and learning. He tries to share and promote an enthusiasm for learning and thoughtful ideas. In Mr. Larsen's class you are guaranteed for not only a good learning experience but a teacher that will work with you and always look out for your best interest.