NFL Offseason Trades.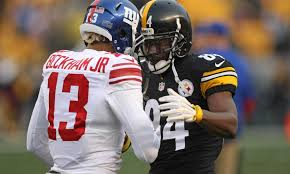 This has been a crazy off season for the NFL, a lot of trades have happened, including two franchise receivers, Odell Beckham Jr., and Antonio Brown. Odell was traded to the Browns, in return the giants received 2019 17th overall pick, 2019 3rd round pick, Jabrill Peppers, and Kevin Zeitler. Odell signed a contract with the Browns for 5 years for $95 million. This makes the Browns a very dangerous team with an explosive offense. They have Odell and Jarvis Landry and receiver, and Baker Mayfield and Nick Chubb in the backfield. They also have a very solid offense of line to protect Baker.
The other big time trade was the Pittsburg Steelers trade Antonio Brown to the Raiders, the Stealers got a 3rd and 5th round pick in the 2019 draft. Antonio signs a huge contract with the raiders for 3 years for $54 million. This was a huge pick up for the Raiders they had tough season this season. They were in need of an allstar receiver because they lost Amari Cooper last season to the Cowboys. They also lost Khalil Mack last season to have a person like Antonio Brown is huge for there team.