Jazz band regionals preview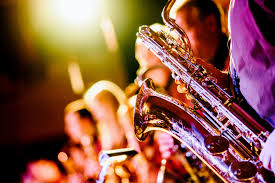 The Davis High Jazz band is a group of band members who have shown excellence with their instrumental skills and been chosen to perform as a separate group than the regular concert bands. The jazz band regional is coming up soon, and the group is sure to take the show.
The regional jazz festival will be happening next Wednesday. the jazz band has prepared three different jazz pieces, each with a different style and skill level. they will be performed in front of the judges to a receive a score of 1 to 5, 1 being the highest. if they receive high marks they will move onto state.
The jazz band features several instruments such as piano, trumpet, saxophone drum set, trombone, and the string bass to name a few. They all incorporate into making the music they play precise and excellent. A few of the members, Lexie Snell (trumpet), and Bailey Robinson (Alto Sax) have shared some information on the upcoming regional competition.
This is Lexie's third year in the jazz band, while it is Bailey's first year. They both give a unique insight on what goes on during rehearsals and performances, and how much this region festival means to them.
"I love jazz band with all my heart", says Bailey Robinson. Both of the members shared that they are grateful for the opportunity to play with the jazz band at the region festival.