Salt Lake has something more sweet to offer than just the 2002 Olympics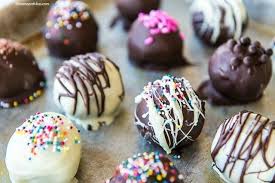 Salt Lake City Utah isn't the city of lights, its not the city that never sleeps, nor is it typically thought about unless people just randomly remember the 2002 Olympics, but when people miss out on SLC, they're missing out on some of the best dessert places the state of Utah has to offer. Among the standouts on the surprisingly crowded SLC dessert scene will be highlighted in this article.
Munchies desserts is open most week days and weekends. Munchies is interesting because they open around 7p.m. and stay open until 12a.m.-1a.m. depending on the day of the week. To get details on their hours they always have them on their Instagram. Their menu is relatively small, but very high quality. Munchies has brownies, chocolate chip cookies and great cinnamon rolls. They also have a dessert that changes every month. They also deliver if you go to the website and put in an order.
Hatch Family Chocolates opened in the Avenues in 2003. They are one of the only places that still dips chocolate in Utah. The restaurant is owned by Steven and Kate Hatch who are carrying on the family tradition. Their chocolate shop has a great atmosphere, and they'll sometimes have performances. They have a great selection of chocolates and warm drinks. Hatch Family Chocolates values high quality chocolate will not disappoint you when you decide to go in.
Big O Donuts is a doughnut shop that handcrafts all of their doughnuts and makes them fresh. They use local ingredients that are all 100% plant based. Big O Donuts value being Eco-friendly and having unique doughnut flavors. Their flavors range from a Blueberry Lavender Cheesecake cake doughnut to just an average Boston Cream. They also have a doughnut of the month that is always a unique and fun flavor.
Goodly Cookies has large cookies that are sold for $3.50 each. They are gaining popularity and have great flavors. Goodly Cookies has flavors from white chocolate raspberry to just average chocolate chip. Their cookies are made fresh everyday. On weekdays there are open from 11a.m.-11p.m. On weekends they are open from 11a.m. and stay open until 1a.m. Goodly Cookies hired extremely experienced chefs to help create the perfect cookie recipe. They believe they have the best cookies you will ever try after 20 years of perfecting the recipe.
Salt Lake has so many good options for dessert. So next time you think about Salt Lake, consider some of these places with high quality treats that will not disappoint.