Westbrook and Jazz fans exchange words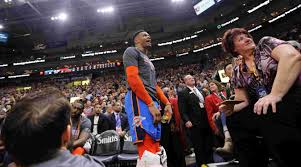 On Monday night it was no ordinary Jazz game. The Oklahoma City Thunder beat the Jazz 98 to 89, but Russel Westbrook and a Jazz fan exchanged a lot of words. The Jazz fan was given a life time ban from Vivint Smart Arena for his actions. Russel also received a $25,000 fine for using profanity and threatening a fan.
"A young man and his wife told me to 'get on my knees like you used to.' And for me, that's completely disrespectful to me. I think its racial. I think its inappropriate in the sense of there's no protection for the players." States Westbrook.
"Russel told me 'i'll f–k you up. You and your wife.' So I told him to sit back down and ice his knees, bro." said the Jazz fan.
I was at the game on Monday and it was very weird and awkward. Everyone was talking to him and he must have had something against that fan because there was a lot worse things being said about him. I think Russel shouldn't have been punished and neither should the fan.