The return of Zion Williamson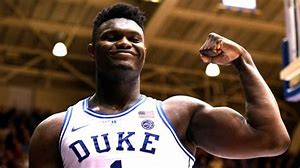 Zion Williamson is the top NBA prospect for the 2019 draft. He is a 6-7 285 forward and he can move and jump like no other. He is the starting forward for Duke University. The first time the Blue Devils played their rivals North Carolina Tar hills Williamson got hurt within the first 30 seconds. He made a hard cut and he shoe ripped which led him to sprain his knee and he was out for 4-5 weeks. No one was expecting Zion to come back and play for Duke because he didn't want to re-injure his knee and this time he could be out for months and he could miss that NBA combine.
"Knowing what I know now college is bulls–t So my advice is to do what's best for you and your family. College does nothing for you at this point, you've already proven that you're the number one pick coming out, you've already proven your talent. Get ready for the next level because its happening." states Demarcus.
Zion did not take Cousins advice and came back for Duke first game in the ACC tournament against Syracuse and was as good as ever dropping 29 pts, 14 rebounds, and had 5 steals. Duke bested Syracuse 84-72. When Duke has Zion they are a very tough team to beat.