DHS Newsies to rock musical theatre competition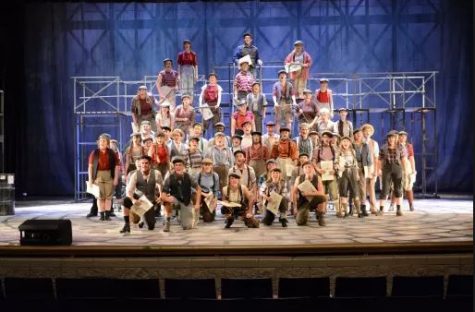 This last November, the DHS Musical Productions class put on an incredible performance of Disney's Newsies. They were the 2nd high school in the state of Utah and 11th in the country to perform this show as the musical rights had just been released the preceding spring. The class of 70, in addition to the stage crew, worked hard all through the summer and fall to get the show as good it could be. Many late nights and early mornings where spent building the set, painting, learning complicated tap routines, and dancing, dancing, dancing!
All this hard work didn't go unnoticed. Two judges from the Utah Festival of Opera and Musical Theatre came on opening night to watch the show. They go around 30 high schools in Utah, watching theatre performances and decided who should be the top ten finalists for each of the 13 categories. After months of deliberation, Davis has been chosen as finalist for 11 out of the 13 total categories!
Michael Wright, theatre teacher and director of Newsies explains how the Utah High School Musical Theatre Awards function. On May 18th, most of the cast and members of the crew will go to the Eccles Theatre for the show.
"It's a red carpet affair, a black tie event-similar to the Tony's or Academy Awards" says Mr. Wright.
"It's a mixture of awards and performances." added Wright.
Davis has 4 performances: Dekklan MacKay, Anna Peacock, and Hyrum Frank will all perform in a medley with the other finalists. A group of the ensemble will perform the crowd favourite "King of New York"
Here's what DHS is a finalist for:
Best Musical
Best Actor-Dekklan MacKay
Best Actress-Anna Peacock
Best Supporting  Actor-Hyrum Frank
Best Director-Michael Wright
Best Choreography
Best Set Design
Best Costume Design
Best Lighting Design
Best Technical Crew
Best Ensemble
Tickets to attend the event are availible on the Utah Festival website! Give a big congrats to the Newsies cast & crew!!
https://www.utahfestival.org/uploads/2019%20UHSMTA%20Finalists.pdf