Houston Vs. Golden State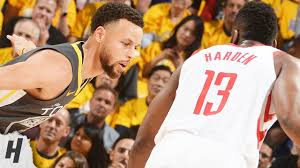 The NBA playoffs are always something to look forward to every year. The past few years the Golden State Warriors have dominated, and so far this year it seems like they will dominate once again.
The Houston Rockets, arguably the 2nd best team in the West behind the Warriors took 4th place during the regular season. They played the Jazz in the first round and won the series pretty easily 4-1.
The Warriors who took first in the regular season played the Clippers the first round, and surprisingly the series went to 6 games with the Warriors eventually winning the series 4-2.
With both the Rockets and the Warriors winning, it sets up a huge 2nd round match up in the West.
Last year, Houston and Golden State played for the Western Conference Finals. Chris Paul got injured early in that series and Golden State walked away with it.
This year, James Harden, Chris Paul and the rest of the Rockets are currently down 2-0 to the Warriors. The Rockets had to travel to Golden State for the first 2 games, and ended up losing both of them. The next 2 games however, are in Houston. If Houston can take 1 or maybe even 2 games at home the series should be a good one.