Taylor Swift's new song ft. Brendon Urie disappointed us all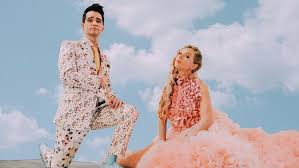 Taylor Swift's new song featuring Brendan Urie is extremely disappointing. The new song called "ME!" had a lot of hype from Taylor's fans, there were lots of countdowns and Taylor even started posted on her Instagram again. In short, this song had high expectations.
Taylor Swift in the past is known for her writing songs about past relationships, and her latest album is more about recent drama that she has had with other stars. ME! is about how Taylor is narcissistic and crazy (which are not unknown facts).
Bredon Urie is in the band Panic! at the Disco. He has gained a large following and has many die hard fans. Taylor Swift making a song with Brendon Urie got a lot of people excited. Sadly, Brendon's vocals were not represented very well by the song. The song also is not very unique compared to some of her other songs. It isn't very revolutionary like her last two albums were.
The song also has some odd lyrics in the song. Taylor sings a part saying, "and there's a lot of cool chicks out there," while Brendon sings, "there's a lot of lame guys out there," which I don't fully understand the point of this saying that they both also sing about them being hard to deal with. It's an odd choice of lyrics that also seem pretty juvenile at some level. There's also a part of the song saying "Hey kids! Spelling is fun!" which is supposed to be funny, but it's really just more cringe worthy. Taylor Swift typically has creative song lyrics, but with this song her fans were expecting more.
I don't dislike Taylor Swift or Brendon Urie. The song was disappointing and didn't represent either of their voices very well. The song was supposed to really fun and it was. The music video is very pretty and colorful but the song on its own is nothing special.  I really wanted to like this song but there were a lot of parts of it that were odd and not very interesting.