Coach Bayard the football expert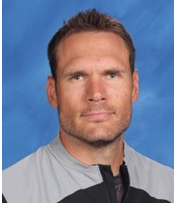 Coach Bayard has been coaching the Davis High Football team for the past three years. His most favorite thing about being a coach is the atmosphere. He also loves the competition between the players and the other teams.
At the beginning of the season the Darts didn't score as many points as Bayard was hoping for.
"The first two games we only scored 23 points combined, and the last three games we have a total of 113 points." Bayard tells the reporter.
The way that the offense is developing is looking good for the darts as they prepare for Region.
Currently Davis is sitting in region behind Syracuse. They have played the bottom half of the region already and they are preparing to take an on the 1st on the team and 3rd team in the next two weeks. If they beat both teams they will be ranked first in the region. It is going to be a challenge for the Darts. There have been some tough tests this year for the Davis High Football team. Last year the team was super senior heavy. Also, with the Farmington split last year, the senior players on the team this year is a small number.
"It was hard getting all of the players on the same page." Bayard explains.
The team also has struggle with getting a lot of the players healthy this year. He is overall very happy with the progress that the offensive line is making, but they still have things that they could work on. Before the games Coach Arquette treats all the coaches with a meal. They discuss the game for that night and what their goals are for the game. After, Bayard tries to relax and get the boys prepared for the game.