Is there such thing as too much christmas spirit?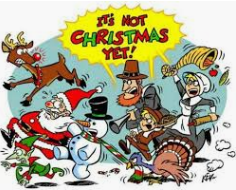 Around Kaysville as of late, there have been many complaints about folks celebrating Christmas too soon.
The minute the cold weather hits, stores start bringing out their Christmas decor. The dollar store right off of Main street, for example, started bringing out everything-from Christmas lights to Santa hats-at the beginning of October.
Many Halloween and Thanksgiving lovers are upset over these Christmas shenanigans. Seeing how hardly anybody can enjoy their Thanksgiving meals while the thought of Christmas is all that's on their minds. Christmas is a major holiday. People all over the world celebrate the warming holiday of Christmas.
"Christmas is my favorite because there is a long break off of school, spending time with my friends and family, more shopping all around, and lots of presents." says Ireland Dannehold.
But when does the line get drawn on having too much Christmas Spirit? One of our fellow teachers here at Davis High School, Soulyvanh Phongsavath, often called Souli, started the #savethanksgiving movement. The purpose of this purposed movement is to keep all those thanksgiving lovers from getting their holiday trampled on by its cold competitor, Christmas. Souly states that the best part of thanksgiving is the four F's; Family, Food, Friends, and Football. The only thing you must do to help this movement is pledge that you will not listen to Christmas music before thanksgiving day, simple as that!
However, it's a slow movement. With the world getting ready for Christmas, staying away from Christmas music and the very popular (yet same storyline) Hallmark movies is difficult for some. If you would like to become a part of the #savethanksgiving movement, you can follow it's Instagram @savethanksgiving.
Another way to partake in the movement is buying limited #savethanksgiving merch. For $15 you can pay for a #savethanksgiving long-sleeve T-shirt. You must order the #savethanksgiving merch by November 13th to be delivered by the 20-22nd.
This movement merch comes in 4 colors:
-Black with gold text
-Black with white text
-White with gold text
-Black with white text
#savethanksgiving movement aside, how do you feel about extending Christmas to before Thanksgiving? Do you prefer the Christmas Spirt or the full stomach from Thanksgiving dinner?