Davis High swim meet at Box Elder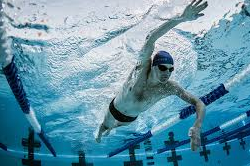 The Davis High swim meet took 2nd place in both boys and girls divisions at Box Elder High School on Saturday, November 2, 2019. The teams: Box Elder, Weber, Riverton, Ridgeline,Uintah, Morgan, and of course Davis High, competed that morning. Swimming as a sport has been around for centuries now since the early 1800's. Competitive swimming started in Britain in 1830, mostly using breaststroke.  Swimming has encouraged all to push themselves harder physically and mentally. Swimming builds endurance, muscle strength, and cardiovascular fitness.
"I love swim because I have a lot of friends on the team, it's fun to do, and it's good exercise," says sophomore Shandrey Allman.
Lauren Hall got the award for Best of Meet for Girls. The boys' 200 and 400 relay also had a new record set aswell.
The team trained hard five days a week after school to get their well-deserved placement in the meet. We also talked to the swim captain, Kyle Lortz, for his opinion,
"My thoughts were how Davis did their best. I did notice that there were a group of swimmers at the edge of the pool cheering on their fellow darts. It wasn't just one or two swimmers, but nine to ten. They were always being supportive. I was glad on how our team broke two records and one swimmer getting MVP. We may not have won the meet, but we  won for ourselves. We accomplished something beyond just an individual swimmer, but a family."
Davis High School has a great swim team this season, with alot of young talent and hear. There is no doubt there will be more and more records beat, so please come and supportyour fellwo darats at their next meet on Tuesday the 12th in Ogden!