Golf Region Champs!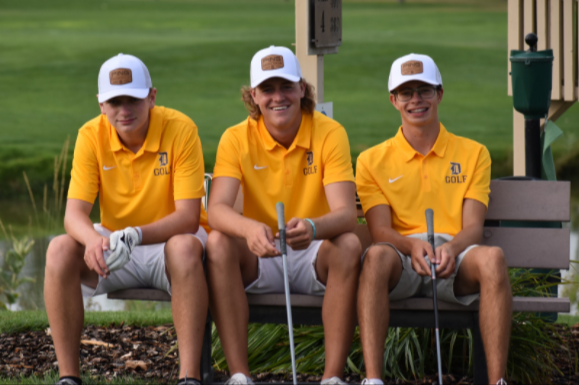 The Davis High Varsity Boys Golf team is not one to be overlooked. With a legacy to live up to from past years, they successfully earned the title of Region Champions after a challenging tournament this past week. The real question is- can the Boys Golf team claim the State title next week?  
When asked if this match was a simple one to win "Our team didn't play amazing, but we played well enough to win."  said Jack Sargent a Senior on the Davis Golf Team.
With threatening winds during the second game, this match presented a challenge for Jack who is a valuable member to the team. Jack shot a 79/72 at this tournament compared to his personal best of 61. He believes that the Boys Golf team will succeed at State if they can all play well.  
However, Charlie Rhodes claimed that the Region win was less of a challenge. Charlie stated that, "We whooped. It was pretty dang easy."  Charlie shot a 83/85 and is expecting for State to be a close match. When asked to describe his team in one word, he chose "Exquisite" because of the excellent coach and team members.  
The Boys Golf team has had an impressive record this year, with only losing one tournament. They are optimistic about their chances with winning the title but are already expecting a demanding game that will require them to perform at their absolute best. The Boys varsity team consists of Mckay Cook, Jack Sargent, Preston Wallace, Cade Montgomery, Sebastian Fernandez, Charlie Rhodes, Cole Cipriano, and Drew Sampson. Individually, Mckay Cook consistently scores very low (which is good in golf-in case you didn't know!) and is a valuable asset to the team.  
So, will the Boys Golf team be able to swing state? We'll find out next week, but Davis High has full confidence in the team!