Classroom Creativity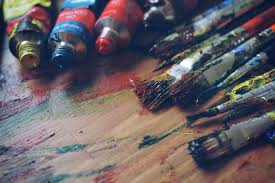 Art is a form of expression. It displays emotions and events we conjure up physically onto paper. Whether that's with a pencil or paintbrush, it's up to you. Either allow us to explore our minds and be open to millions of opportunities. Luckily for all Davis students, we have a fantastic art teacher who lets us explore our creativity.
Mrs. Morley has been teaching art for three years and during those them, she has not only grew herself but helped others do the same. The classes all have different projects, all equally as fun as the last. However, Mrs. Morley herself has a favorite; Art foundation. Her reasoning being, "Because we get to do a little bit of every kind of art."
She's not the only one who has favorites. Classes love her projects and no doubt love one more than the rest. Mrs. Morley says the most loved project is the song painting; students pick a song and paint what they feel represents it. No wonder it's a top favorite. For Mrs. Morley herself, she prefers the self-portrait because it allows her to learn who her students are and see how creative they can be.
So, if you haven't taken a class with our art teacher, why haven't you? Catch a break from numbers and words, instead pick up a brush. "I will give you feedback that I think will help you but I am not too hard on you – and I give you opportunities to explore different styles and mediums. Come learn something new!"