Xbox Vs Ps4, Battle For The Ages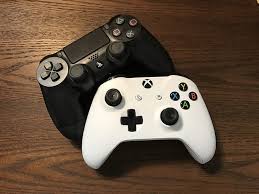 Xbox and PlayStation have been going at it ever since they were released. They are trying to figure out who makes the better console for the consumer. The people think they are both great, but you always have people on both sides, and they are always telling the other that they are better.
Xbox who is run by Microsoft has been making consoles for years. They have been doing very well and they are one of the top manufacturers in their industry and they are there for a reason. They make a console called the Xbox One.
It is a gaming console that allows you to play with other people and all sorts of games and it does it with such a nice and smooth system. The user interface is great, and it is easy to use and you can do so much with it. One of the problems with it is for all games you need to pay per month to play online with friends and other people.
The PlayStation is a very similar concept. They are run by the company Sony. They have been doing this for just as long as Xbox has, and they are right up there with them. They can give the same experience. Some would say that is runs just as smooth and that it is even easier to use than the Xbox.
A lot of it is how you like the feel of it. But it is also very easy to use and it gives you a great gaming experience. One of the things that set them apart is that to play some online games you do not have to pay to connect with other people.
They are both great and they are the best on the market. But it all comes down to personal preference. How you would use it and how it feels in your hands are some major factors and that is how you decide. You cannot go wrong with either of them or they will both give you an amazing gaming experience.