Fun Winter Activities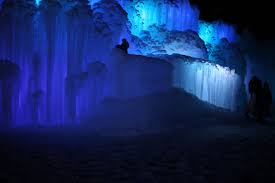 Many people dislike the cold Utah winter weather and stay inside waiting for it to be warm again, while others make the most of the season by trying new things and going new places. So start this year off right with some super fun winter activities.
One of my favorite things to do in the winter is to see the ice castles in Midway, Utah. My family visits every other year and enjoys the magical sculptures, tunnels, and slides all made out of ice. It is especially cool to go there when it is dark because of all the colored lights glowing in the ice. The ice castles are also a perfect destination to take super cool winter photos with friends and family.
Lets take advantage of this snowy weather and go skiing, Snowboarding, sledding, snowmobiling, and ice skating. If you have never been snowmobiling then I strongly advise you to borrow one or rent a snowmobile for the day because it is one of my favorite things to do ever. I tried skiing for the first time this year and I have definitely been missing out because it was super fun.
For those of you who dislike the cold there are plenty of indoor activities to enjoy. Nothing is better than playing board games by the fireplace with a cup of hot chocolate on a cold day.
Baking is something that I love to do in the winter because you can give your treats away as gifts during the holiday season while improving your baking skills.
If you want to enjoy the winter scenery without being cold then take a drive through the canyon and enjoy beautiful views of the snowy trees and frosted mountains.
If you are a fan of camping then staying at a cabin in the winter woods is something I bet you will enjoy doing. I love staying at cabins because when you go outside into the woods the snow absorbs all the noise around so it is one of the most peaceful experiences I have ever had. You can do indoor and outdoor activities and never have to drive to a snow filled area to go sledding, snowmobiling, and walks in the snow.
I hope you have a great winter and an even better new year!