Marcus Williams: Simply Swimmin'
Once a shy sophomore, now senior Marcus Williams shares his swimming story and all the emotions with it.
After almost three years of being on a competitive swim team, it's finally coming to an end. He started his sophomore year at Davis High school and has loved it ever since. It has impacted him in many ways, particularly in his social life.
"I've made a lot of super close friends I didn't think I was going to make."
He said.
Those kids he bonded with the first couple days of swim practice turned into life-long friends who are together every single day after school. The team spends 10-20 hours a week for all things swim-related. Whether it's in the pool, lifting weights, or competing, the team is always together.
"It makes me sad knowing that there's only two meets left, even worse because one got cancelled. We're all so connected to the team and the coaches and it's just all gone in two weeks."
Said Marcus.
His senior season is coming to an end way too fast for his liking. The State meet is coming up the last week of January and there's definitely some competition and pressure.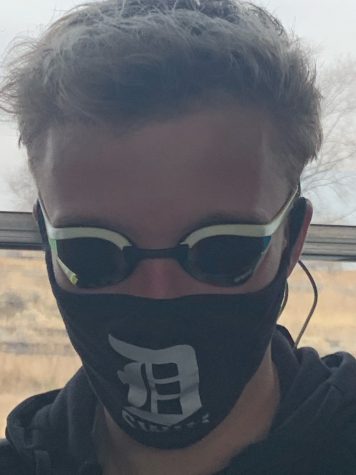 "There's pressure to drop time and compete well for the team especially because there's kids who are quarantined. Plus, all the athletes are getting tested tomorrow, so who knows if we'll get shut down and not even have the last two weeks of the season."
While competing for a spot at the State meet, Marcus is pushing himself harder than ever. No mistakes, no off days, just hard work. Not many people can say that they've been on the Davis High Swim team and have competed at the State meet. We all enjoy doing things we love, and Marcus loves swimming. His favorite part is just being active and being part of an amazing team.
"Swim is awesome, you should join!"
He stated.
Everybody's known that Marcus was meant to be a swimmer. Even though it's already been three years, he's just getting started.