Could there be a bowling club at Davis?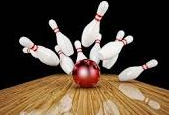 Has anything ever been appealing to you but seems just out of reach? Something like bowling, maybe? Here at Davis High School, Bowling is something that most students see as a pastime. Could Bowling possibly be integrated into Davis High as a club or competitive sport? Stick around to see if the general opinion of the students says so.
In a poll of 20 random students at Davis High, 45% of the students said they were interested in bowling, 10% could see DHS creating a team of talented Bowlers, and that same 10% said they could see it being successful. Then, once again, the same 10% said they would join the team/club. All of a sudden, it's not looking so good for a Bowling team at DHS.
As the final question on the poll, the students were asked if they thought the idea was waste of time, good enough to be a club, or should be made into a school sport. 60% of the students thought it would be a waste of time, 25% thought it should be a club, and 15% thought it should be made into a school sport.
What can be said from these polls is that DHS doesn't seem to be too interested in competitive bowling as a school team. To me personally, I just see bowling as a fun pastime activity to partake in with your family, friends, or a date. I'm not sure if I can speak for other students by saying this, but to me it seems like they feel the same way.
Although Bowling at DHS isn't exactly a bad idea, to a general audience, it isn't a great one. With enough students and faculty supporting the idea, it could become a reality, but until then, bowling looks like it's just gonna have to stay one of those activities you do with grandma.