Jamie Perry: SBO for life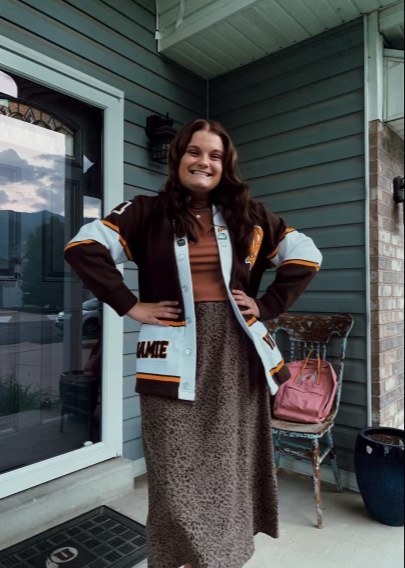 Jamie Perry is a senior at Davis High school. Jamie has been an SBO for 3 years now! From 2017-2021. Jamie is an SBO Vice President this year and enjoys every second of it.
When asked about her favorite part of being an SBO, Jamie said:
"The people I get to meet and work with, its fun to meet people in office and meet students at games and interact with people I usually wouldn't have. And watching her friends doing things they are good at."
Jamie says that this year has definitely been her favorite year being an SBO. In her own words: "Cuz it sucked but it also has been good. Ya know? Also because I'm a senior now and I know what I'm doing and I get to help people now."
Jamie's plans after graduation include going to Southern Utah University to study English education.
When asked about why she wants to go into English education Jamie said: "All the English teachers I've ever had have been super cool and I like reading and I think I'm pretty good at writing if I do say so myself."
Her dreams include, going to the Met Gala and doing 73 questions with Vogue, whichever comes first.
Jamie currently works at Cinemark and has worked there since 2019! She only plans on staying there until the end of summer when she starts school.
She really enjoys working there and says it's fun. Her favorite part about working there is when big movies would come out and people would be so excited and dress up to see their favorite movies.
When she's not working Jamie loves to bake. Her favorite thing to bake is pumpkin chocolate chip cookies and bring them to her friends.
She says "I make a beast angel food cake, which is really hard to do."
You can keep up with all her baking and other adventures on her Instagram account, @jam.spamms