Adventures of Moab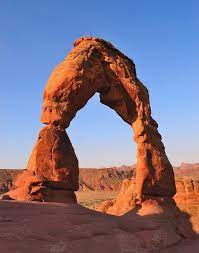 Going to Moab is a big adventure. You go there to explore the wilderness and see some of the most beautiful views and landscapes in the world. It is a very unique place full of activities from off-roading  to hiking.
When you go to Moab you will be greeted by red rock cliffs and a very fun atmosphere. There are many cool places to stop in town. Some great places to eat in town are Pasta Jays and Moab diner. This will get you all the nutrition you need to go out on any adventure you want.
Probably the most famous thing in Moab is arches national park. One of the most famous attractions in the park is delicate arch. This is definitely worth the hike. It is a 3 mile round trip hike. You will want to wear good shoes and be prepared to go up some steep slick rock. The view is best during sunrise when you get the sun coming up behind the arch. There are many other arches to hike to and no hike is to difficult. Be ready for some heat and bring plenty of water.
Another big attraction is 4×4 off-roading. You will have many choices of trails and many ways to complete the trails. Probably one of the most famous tails is Hells Revenge. This is an intermediate trail with some of the coolest landscapes. You will go up very steep slick rock and then drop down onto sandy washes. They also have a mountain bike trail that goes right along with hells revenge. You can also ride alongside on dirt bikes. The options are endless on what you can do on these trails. You will want to go along with someone that knows what they are doing and you can also go on a tour that are offered in town.
Whether you have been there before or not you will not run out of things to do. You will always have fun and have something to do. Just be ready to deal with some heat in the summer and carry water with you everywhere you go. Moab is one of the coolest places in the world and definitely worth the trip.