A bright new face enters Davis High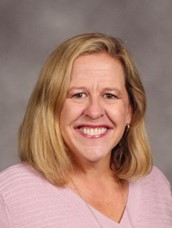 Many may know her as Morgan Bunch's mom or by the coolest English teacher ever! This
energetic and loving teacher is named Mrs. Bunch.

Mrs. Bunch grew up in Southern California and moved here to go to college at BYU. While
there, she was the life of the party and thrived in the college environment.

"I am passionate about helping kids be better writers and readers," said Bunch. For this reason,
she became an English teacher at Davis this year. She teaches sophomores and seniors and
raves about her job!

Mrs. Bunch is a mother of 4 beautiful children and 3 of them are Davis graduates! Her last one,
Jack, is a sophomore this year at Davis as well.

"I love to be transported to different places through reading!" says Bunch. Her favorite hobby is
reading, and she loves all different kinds of genres!

"I hope I am very friendly, and I like to build people up" stated Mrs. Bunch. Just by talking with
her for a few minutes you can feel her light and her happiness.

She carries these same characteristics to incorporate them in the classroom. Her goal is to help
kids reach their potential by creating a safe space and a warm environment.

She doesn't want the kids to fail, she wants them to succeed. She does this by trusting them to
get their work done and giving them opportunities to express themselves.

Bunch has already been heavily involved in the lacrosse teams here at Davis High. Her husband
helps coach the girls team. They are both big parts of that team and we don't know what we
would do without them!

If I could pick one word to describe Megan Bunch it would be joy. You feel joy by just being
around her and I hope that she will stick around at Davis High for years to come!