Mackenzie Loo, new admin, brings her high energy to DHS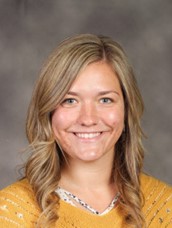 Mackenzie Loo, new admin intern with high energy is ready to show her face to the
school and be seen by students and is ready to help them in any way she can.

Loo grew up not too far from here, she grew up in South Ogden. Loo went to Bonneville
High School where she graduated with her Associates degree. Bonneville back in the day didn't
have any CE classes, so Mackenzie had to physically be at the college to get her credits that she
needed for her Associates.

Mackenzie's whole life, Loo has been surrounded by educators, that's what inspired her
to become one herself. Her dad is currently a principal at Centerville, planning on retiring soon.

"What inspired me to become a teacher is definitely all the role models from my own family."
Mackenzie replied.

Loo started out her educating career by becoming a teacher at Burton Elementary
school. She first taught Kindergarten, but then realized that it wasn't for her, so she moved up
to 5th grade. Her favorite part about teaching the 5th graders was having conversations with her
students.

"I loved teaching the 5th because you could have actual conversations with them, whereas the
Kindergarteners are kind of just doing there own thing." Mackenzie said.

So far, Mackenzie is loving her experience at Davis High School. She says she can't
choose her favorite part because she loves everything. If she had to decide, she would pick the
extracurricular activities. Her husband loves football, which makers her a fan as well.

Between teaching and being on the administration, Loo said she would rather be on the
administration. She loved her 5th graders, but she went into school to become an administrator.
Her few favorite parts about being on the admin include, working with the faculty, parents and
students and she loves helping them all.

If Loo wasn't on the administration, she would probably be a teacher again, but of an
easier subject. She said she would either teach jewelry or yoga. Something where she doesn't
have to think too much and would just have a good old time.

"I would want to teach a class where I wouldn't have to think too hard if I wasn't on the
administration." Mackenzie answered.

A fun fact about Mackenzie Loo that she tells almost everyone she meets is that she is a
fraternal twin with her sister, her husband is also a twin, her husband's sister had twins and Loo
had twins herself. That's a lot of twins running around at their family reunions.