Duren Montgomery, Davis High's go getter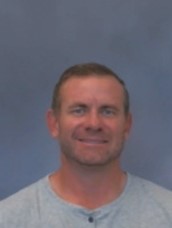 The past year Davis high has completely changed their football program with the new addition
of Head Coach Scott Peery from Fremont High. This year at Davis there is a new Coach on the Sidelines
from Fremont. Scott Peery's close friend Duren Montgomery. Being the Head track Coach, Football
Coach, part time bodybuilder and Teacher at Fremont, Duren is bringing his advanced skill set to Davis
High.

Duren Montgomery grew up in Cache Valley with his brother Maurice. Duren has built his own
home in Richmond using a contracting license, which Duren still has to this day. Duren has two children,
Daxton and Mckinley. And is now living with his Girlfriend, her four kids, and Two dogs.
Duren graduated from Utah State University and originally was a general contractor right out of
Utah State. Duren took a break from school after college and put a pause on teaching, Duren's Dream
Job.

"I had just got tired of school after so many years, so I contracted for a while." Said Duren.
During college Duren was a teacher's assistant. While teaching different age groups he decided
he enjoyed teaching High schoolers the most. Duren likes being around them and enjoys teaching them
in the most important part of their lives. Early in Duren's schooling, Duren found his joy for Athletics and
began wanting to become a coach.

While teaching and coaching at Fremont Duren began Bodybuilding. Duren had always lifted
weights but wanted to see what his body could do and began to think about potentially bodybuilding.
"Once I fixate and think about something I finish it and have to do it and I will not be okay till it's
done." Said Duren.

Before bodybuilding Duren would do 90% weights and would dread doing 10% cardio
afterwards. Training for bodybuilding Duren would train weights for about 2 hours and cardio for 2
hours and 20 minutes. Duren competed at the 2021 NPC Utah cup and placed third in the Men's
Physique masters over 35. Third in Men's Physique true novice class B. Fifth place in Men's Physique
class D.

While coaching at Fremont Duren Coached Amare Harlan, a back-to-back state champion in the
100 and the fastest 100m in Utah ever. Amare won as a senior and a Junior and Duren believes she will
easily win this year again.

This year Duren moved to Davis High and began to coach football during the summer. Duren is
the special teams and DB coach helping get momentum against multiple teams including an onside kick
against Alta perfectly planned. The Fremont game was very emotional and important to Duren and Head
Coach Peery.

"I am Happy I moved to Davis and Glad we beat the old school I coached at." Said Duren. And
we are glad to have such an great teacher and amazing coach at Davis high.