A Christmas Story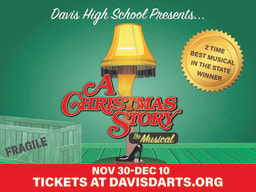 The Davis High Theatre Program looks forward to this year's holiday season and their production of A Christmas Story, where their creative talents and hard work will shine on stage as each of their characters come to life.
The show follows the rambunctious Ralphie Parker on his quest for a Red Ryder air rifle as he dodges bullies, interacts with his cranky dad and overbearing mother, and attempts to make it to Christmas with his glasses intact and his Red Ryder in hand. This fantastical production has excited both actors and Davis High students and families.
"You will laugh and cry and squeal and laugh again!" Kennedy Ridges, actor in this year's production stated.
A Christmas Story is sure to be full of humor, dancing, and laughs. Although the production is guaranteed to be lots of fun, actors would like to portray the deeper meaning behind whimsical characters and Christmas bliss.
"The last scene wraps up the show so beautifully. It really emphasizes the beauty of unconditional love and family. I feel like there are many ups and downs and jokes throughout the show, but the last scene ties it all up with a beautiful Christmas bow." Davis High student, Emery Lundgreen stated, actor portraying the role of Randy Parker.
A Christmas Story is sure to pull at your heart strings and leave you feeling the true spirit of Christmas, the importance of family and a sense of belonging. The actors, directors, and stage crew would appreciate your attendance as they share this story with Davis High and the Kaysville community and are sure it will put everyone in the "Christmas mood".
"Be prepared to laugh and have a really wholesome night." – Emery Lundgreen.