Spotlight on Lisa Johnston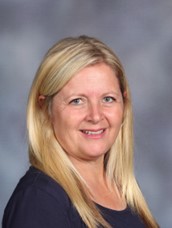 Mrs. Johnston is a CTE teacher here at Davis High School. She loves teaching and has been doing so for several years here at Davis. Johnston loves being a mom and loves all her students.  
Lisa Johnston wasn't always planning on teaching; in fact, she didn't even think about it until she graduated high school. Once she graduated, she went right into social work, although elementary education was always in the back of her head. 
Later, she realized that social work wasn't for her and while in an introductory class someone suggested that she should work with high school parents and young parents. That's when Lisa realized that she wanted to work with high school kids and elementary kids. 
"I didn't even really think about going into education until I graduated, but I just pushed that though aside and did what I thought I wanted to do, which was social work." Johnston admitted. 
Therefore, the idea of working in CTE at a high school was planted into her mind. Johnston teaches – child development, human development, individual and family relations and early childhood education.  
If Mrs. Johnston had to teach any other subject here at Davis, she would probably teach the education class. But her favorite part about teaching is the students by far. She also loves the curriculum she teaches because it's teaching good life skills to kids who can use them right away. 
"I wouldn't want to teach any other subject; I just love my classes too much." Lisa Johnston said. 
But, if Johnston had to have any other job in the world, she would just be a stay-at-home mom. Even when all her kids are at school, she would still love it. She would love to have more time to volunteer and help in her community. 
"I would love to be a stay-at-home mom while my kids are in school, then I could really deep clean the house and be a good volunteer." Mrs. Johnston replied. 
One of the most bizarre things that ever happened in Lisa Johnston's classroom was somebody passed out and had a seizure when they started their reproduction unit in child development. 
Johnston loves teaching because being a teacher almost means that you can be your own boss, in your own classroom that is. And in teaching you get a new start every new school year and semester.  
"I think the absolute best part of teaching is that you still get a summer break, and I can be a teacher during the school year and a stay-at-home mom during the summer." Johnston answered.