Day of the Dead
Sarah Earnshaw and Ashton Corsetti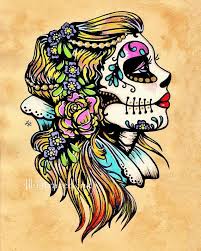 Unlike the gore-filled, bone-chilling commemorations of Halloween, The Day of the Dead is a Mexican holiday offering reassociation and celebration with dead loved ones from October 31-November 2 each year, according to Celebrate Day of The Dead.com.
Also known as Dia de los Muertos, the festival was first celebrated by ancient Mesoamericans who believed that life and death are intercorrelated. According to the Smithsonian Latino Center's website, the indigenous people made the festivities last for months before Spanish conquistadors arrived and incorporated both Catholic and pagan beliefs.
Since then, the celebrations take place worldwide on All Saints Day and All Souls' Day, the first two days of November, for those who feel kinship to the beliefs. Juniors Jared Cavillo and McKenna Foust celebrate this occasion in different ways.
Cavillo and his family honor their heritage together on these days by giving gifts and respecting their ancestors. His family also tells him stories of his grandparents, and allows him to go to the graveyard to pay his respects. "All the family get together to show that they still care and have a legacy in the family," Cavillo said. "Some people do it for Halloween, but it depends on how you feel as a family, if they want to or not."
Foust takes The Day of the Dead to a more artistic approach. "They would celebrate by painting these beautiful masks either onto their skin or a casting of their face," Foust said. "I've painted those masks before." She also considers doing more of what she calls "traditional Halloween stuff," such as carving Jack-o-Lanterns, dressing in costumes, or hanging out with friends.
Jake Hawkins, a senior, speculates on what he learned in seventh grade about the holiday. He said the "imagery" used in The Day of the Dead is similar, but he understood the symbolism was different. "I think I'd rather celebrate the living and what we've got," Hawkins said. "It's important to celebrate our heroes while their still alive, not just when they pass away."