Boys and Girls Get Competitive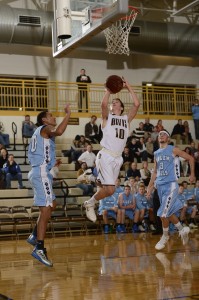 Recent studies show that boys have more competitive tendencies than girls. Despite the facts, some disagree and think that girls have more of a competitive edge.
"Depends on the person, I think girls can be more competitive, for sure. Girls really like to beat people and be competitive," Corbin Talley, coach of the track team, said.
The different levels of competitiveness show what it takes for boys and girls to be satisfied with how they play or compete.
"Boys just really like to win, I think girls are sometimes a little more satisfied with doing their best, being satisfied with their own efforts," Coach Talley said.
Competitiveness and "playing dirty" are two different things. The facts may say that boys are more competitive but most would agree that girls are the ones who "play dirtier."
"I think girls play dirtier, especially if they're playing against boys, because they want to win so bad," Administrator, Rich Firmage, said.
Being competitive is a huge part of every sport and can change the dynamic of the game, which may be the reason behind the difference in attendance between boys' and girls'.