Key Club runs food drive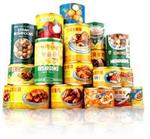 The Key Club is doing its annual food drive for those in need during this holiday season. The food collected will be donated to the food bank.
"There are a lot of good things that you can do to benefit others, but food is a very basic need of everybody, and if you can't afford it, you're in trouble," Jessica Spackman, Key Club manager, said.

A competition is created between classes in order to try and get more people to participate and donate more cans. Students bring cans into their second period class, and the class with the most cans wins a trophy and breakfast made by the administration.