Just Say No?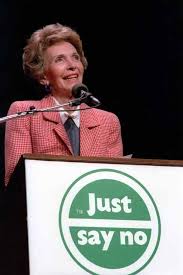 Max Kunz, Reporter
February 20, 2015|41 Views
The war on teen drug use began to burst into public schools years ago when the First Lady of the United States Nancy Reagan began her campaign against teen drug use during the 1980s and 1990s.The main focus of the agenda was to encourage teens to resist drug use by giving them different ways of refusal.
"Just Say No" became a popular phrase for the anti-drug community as a result of her efforts and eventually found its way into many aspects of american life. The catchphrase made cameos in popular TV shows of the time including 'Diff'rent Strokes' and 'Punky Brewster' where it advocated the anti-drug movement. A song was produced by pop star La Toya Jackson entitled "Just Say No", it, too, supported the drug free teen life, along with Ms. Jackson herself.
The effects of the campaign while it was at its peak were quite shocking; high school seniors using cannabis dropped from 50.1% in 1978 to 36% in 1987, to 12% in 1991 and the percentage of students using other drugs decreased similarly. Psychedelic Drug use dropped from 11% to 6%, cocaine from 12% to 10%, and heroin from 1% to 0.5%.
The long term effectiveness of the agenda can be seen in the halls of most american high schools. Red ribbon week is an annual week-long anti-drug endorsement campaign for all secondary and elementary schools. Furthermore there are liners in the urinals of most restrooms for boys, they have a inconspicuous black square on them. However, when a hot liquid (namely urine) is applied to its surface the black melts away revealing Mrs. Reagan's own Words, "Just Say No!"
The ongoing efforts of school districts in Utah and America for the anti-drug way of thinking is still, evidently still present and working hard in the places we need it most.