Winter Drumline competes to be the best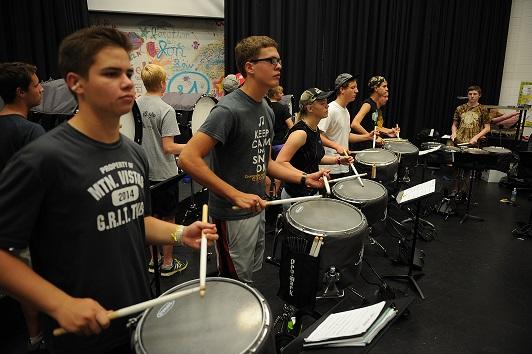 From mid-November until mid-April, the Winter Drumline is drumming away among their desks. The songs they perform are stuck in their heads, and as they sit in class they'll be beating something to the beat of the song.
"The Winter Drumline, it's just marching band without the winds. It's just percussion, and we march indoor. Then we have the front ensemble which is the pit, the mallet instruments and the battery which is all the drums," said Caden Snell, a junior on the drumline.
They practice two days a week for four hours. "We really have to practice both our visual and be physically apt, and [we] also work on our drumming skills as well," said Dan Nybo, the drum captain.
The team has a limited time to create an eight minute show, and they have ten minutes to prepare and perform the show. While half the group carries the drums as they perform, the other half play a keyboard which looks similar to the xylophone.
Although they practice quite often, they still are a group of high school kids. They may work a lot, but the best part of their work is that they have fun. "I enjoy being on Winter Drumline because it's a bunch of different people that enjoy the same thing. We can all do what we like to do together and it's really fun to do that as a group," said Snell.
"I like being part of something different and unique," said Tia Derbidge, a snare drummer, "It's a very exciting experience."
The Drumline has won first place in the last two competitions they've been in, and they're also the five time state champions. They had a competition on March 7th and have two more coming up.
It's easy to get involved for students looking for something fun and challenging to do. All that needs to be done is to audition, which usually happens mid-November, right after marching band season. "So, you just come to audition and they find a place for you. They usually accept everyone who tries out," said Snell.