Local girl scout receives service project honors
The Girl Scouts of America had its humble beginnings on March 12, 1912 in Savannah, Georgia. Its founder, Juliette "Daisy" Gordon Low, began what was going to be an organization with over 2 million active girl scouts with just 18 other young women on the idea that all girls have the right to be in an environment that fostered physical, mental, spiritual development specifically for women. Today the GSA continues to carry those beliefs and there are 100 local councils offer membership across America as well as being active in 92 countries through USA Girl Scouts Overseas.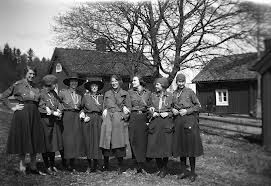 In Utah the Girl Scouts have camps and cookie sales projects as well as opportunities for more advanced service, like what we have seen from Alexis Carlsen. The Girl Scouts of Utah are often recognised for their efforts by the Prudential Insurance Company. Carlsen was recognized for her efforts through the GSU in encouraging reading and literacy. She finalized as a runner up to the state finalists who receive a $1000 award,  an engraved silver medallion, and an all-expense-paid trip to Washington, D.C., for several days of national recognition events, Alexis herself received a Bronze medalion.

(Photo: The original Girl Scouts from Savannah, Georgia. *PC* Creative Commons)